Access
Ticket:
Required
Location:
Aquatic Centre
Opening hours
Friday:
19:00-22:00
Since Genki this year takes place in DGI-byen, we simply had to seize the opportunity and try to book the DGI Aquatic Centre!
They actually let us do it, so for 3 entire hours after their normal opening hours, Genki's guests wil have exclusive rights to all the pools in the entire Aquatic Centre!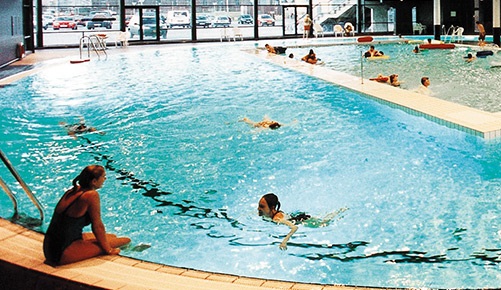 Practical

info
There's free access for Genki's guests, who have purchased Friday or weekend tickets.
The Aquatic Centre's own changing rooms & showers are used for gentlemen and ladies - lockers can be used for 20 DKK which is returned when you're done.
A private changing room & shower for transgenders has been made available by CityFys Wellness - the entrance for this is still through the Aquatic Centre's "kiosk", but then immediately up the stairs to the right (signage will be present).
One of the pools (Gryden) is suitable for people with disabilities to swim in.
The Aquatic Centre is split into to sections, each with a set of pools; photoshoots are only permitted in one of the two sections.
Photoshoots are permitted from 19:00-21:00; BOTH sections will be photo-free af these hours.
To avoid water- and humidity damages, we suggest using a waterproof camera, e.g. GoPro Hero 5 or later, or that you ensure that your camera is classified as "Weather Proof/Sealed."
After Pool Time shuts down, there will be an additional 30 minutes to shower and get dressed (22:00-22:30).
Rules

for Pool Time
General
General rules for safety and hygiene still apply for the Aquatic Centre, i.e.:
If you're going into the water, you need to shower first.
Outdoor shoes are not permitted by the pools - you have to be barefoot, wear shower slippers, or at the very least wear blue shoe protectors over your shoes.
It's not permitted to jump into the water wearing clothes not suited to being in the water, e.g. your everyday clothes or cosplay you've been wearing all day...
For your own health and safety, please don't dive or swim while wearing contacts.
For Cosplay
Diving or swimming while wearing a synthetic wig is not permitted - they will be damaged by the chlorine and may clog the water filters.
Similarly, it is not permitted to dive or swim wearing make-up, even if it's waterproof - in connection with a photoshoot, it's permissible to wear make-up, granted that it is kept ABOVE water.
Cosplay to be worn in the water must be made by materials, such as Lycra or Nylon, that can withstand the chlorine in water. Other materials may be used by the pool or while dipping one's feet, as long as they aren't submerged.
For Photographers
Photographic equipment may not pass through the dressing rooms, so all photographers must enter through a separate entrance.
Taking photos in the photo-free area is strictly forbidden and will result in all photos being deleted and immediate expulsion.
In the photo-permitted area, photographers must follow our general rules for photography.
Any and all photo equipment brought into the pool area is on your own responsibility - Genki is not responsible for equipment that breaks as a result of water damage, humidity, or any other reason.